F9 Training: Become An Authorized F9 Applicator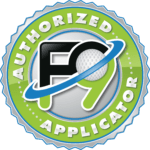 How Do I Become An Authorized F9 Applicator?  
Fill out the Website Listing Agreement form below
Upload your proof of purchasing one or more cases of F9 Products
Publish and link your F9 Rust Removal Webpage
What is the Cost to Become an F9 Authorized Applicator?
The Cost to become part of the F9 Authorized Applicator Team and get access to benefits is FREE!  Just pay a ONE-TIME Administration Fee of $25 which includes placement of your business listing, cross linking from our site to yours, a business listing in the F9 Locator and 2 "F9 Authorized Applicator" decals for your truck.
What are the benefits of becoming an F9 Authorized Applicator?
Become a Member of our Elite National Restoration Force: The F9 Team!
Obtain FREE LEADS through highly visible Front 9 Restoration Website.
Your F9 Restoration Webpage should get 1st or 2nd page Google Rankings quickly upon finishing the cross-linking of your Rust Removal Web Page to our Website.
Obtain a Business Listing with your own URL on our F9 Authorized Applicator Directory.
Customers searching for restoration products can find you through our website.
Your business will get instant credibility and web presence for restoration projects and related services.
Get your choice of a professional, customizable F9 webpage to add to your website for only $25.
You have the option of creating a Rust Removal Video we can embed into your online listing with us.
Access to "Front 9 Restoration Professionals" Facebook Group for Support and Education.
Qualifications and Rules:
Contractor must purchase One case of F9 Product
Contractor must be in the business of Professional Power Washing, Concrete Restoration, Window Washing, Carpet Cleaning, Maintenance Business or Cleaning Department.
Contractor must have professional power washing equipment and surface cleaner. This consists of a gas-powered commercial grade power washer and rotary surface cleaner.  This equipment is needed for preparation of fertilizer and battery acid stain removal.
Contractor has a website or social media page and agrees to publish a Front Restoration page.
Contractor must be active in using the F9 for rust removal and restoration jobs.
By filling out the Website Listing Agreement, the contractor agrees that he meets the qualifications of the F9 Authorized Applicator Program and will abide by the rules listed above.  This agreement is contingent on approval by the F9 TEAM.  Front 9 Restoration, Inc. reserves the right to place listings where needed and make changes to our Authorized Applicator program at any time.